Baby boy handmade album
Item number:100004
Very cute photo album for a newborn boy.
Size: 20*20 cm for 15 pictures 10*15 cm.
It contains blocks for main dates and measurements. A picture on the cover looks very interesting. Will save for a boy and her parents all changes during the first year, memories about the first travel, first Birthday celebration, eating, sleeping, bath... because it will never repeat again. And the best wrapping for these memories will be a handmade album.
Pictures:15
Do you have questions? Ask here
Viewed Items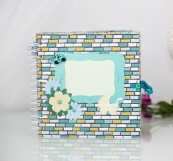 -10%
Baby boy album
410 AED
369 AED